What is new in OET?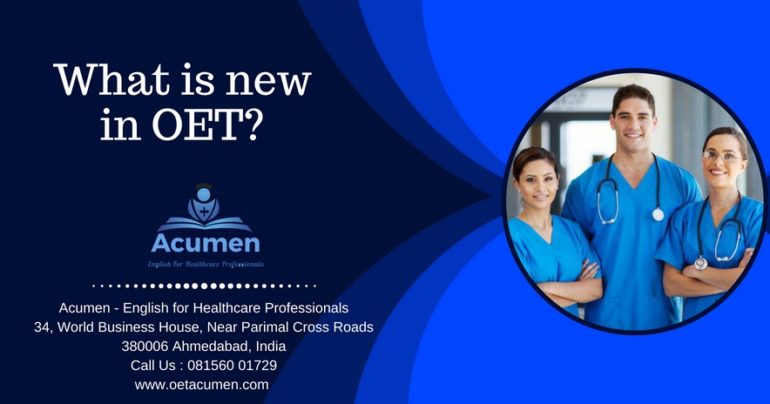 "Nothing in this universe is permanent except CHANGE"………change has to be accepted as a veritable sign of progress.
If you are a healthcare professional aspiring to work or study in healthcare in the UK,  Ireland, Australia, New Zealand, Ukraine, Dubai, Singapore or Namibia, you need to take an English proficiency test…..and  OET is the test for you! OET is the English language test designed for the healthcare sector, specifically.
Many of you are probably preparing for OET or have already prepared for it and are going to appear soon. Most of you will then, also be aware that the OET test format is changing from September 2018. If your date falls after 9th September, most of you will also be apprehensive of the new updated OET format and its impact on your results.
YES!!! The refreshed OET will take an impact on 9th of September 2018.
Not many changes are made in the Spoken or Written modules, but the Listening and Reading modules have changed and 'understanding' the extracts is now the 'Key' to the assessment rubrics.
A few changes and a lot of guidance in your study will make the new format just as easy to answer and that is what we at Acumen provide.
Find Out More and put all your fears to rest, Acumen has the best trained faculty that can coach you in the new format and help you get your desired results.
By taking the OET test, healthcare professionals, worldwide, prove that they not only have the right level of English but also that they have a command over the kind of language they will need every day at work.
And, that's not the only reason healthcare professionals choose OET:
OET uses real healthcare scenarios to make you feel at ease and more confident on test day.
OET is generally accepted as proof of English proficiency for registration, education & work in the sector of healthcare , as well as for visas in many countries.
OET benefits you to improve language skills for advancing in your career
– Follow our blog for stories about people like you and connect with them on a personal level on social media to remove your doubts and get your queries answered first hand.
It's easy to prepare for the test with Acumen;- our OET Preparation Portal is worth checking out!
        Follow our blog at Acumen…….WATCH THIS SPOT FOR OET 2018 Test Updates…………